Would you like to help the University Library with georeferencing maps from the VU's Map collection ? Your help is very welcome!
NOTE: If you georeference five maps before Easter, you will be entered into a draw to win a print of a map of your choice from the VU Old Maps Collection! Read here the interview with Fons Verhaegen, price winner last year.
Easy and enjoyable
In line with a number of other major cartographic collections in both the Netherlands and abroad, the VU Library has initiated a crowd-sourcing project to georeference maps from its own collection. The KLOKAN web application Georeferencer makes georeferencing easy and enjoyable! Find out how you can get started immediately by clicking on the button below.
According to Wikipedia: "georeferencing is a means of associating a digital image file with locations in physical space". This is done by choosing locations on old maps which match current ones. Georeferencing results in georeferenced maps: historical maps that can overlay modern maps. For example: below is depicted Nicolaes Visschers' map of Africa (1680) on top of the current topography.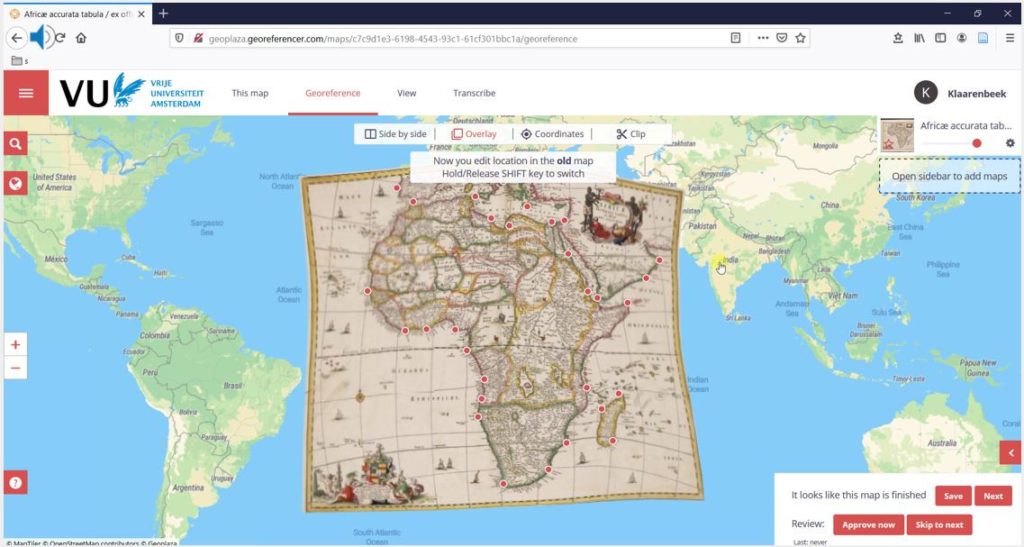 Why do we need georeferenced maps?
Firstly, georeferenced maps can be displayed through web viewers, which greatly increases their accessibility. In geosearch you can browse (georeferenced UBVU maps) geographically. They will also be published on www.oldmapsonline.org).
Secondly, georeferenced maps can be downloaded and opened as layers in GIS-software, which increases their applicability.
Thirdly, the degree and distribution of the errors helps enhance our knowledge of the old maps' geometric accuracy.
Read more on the usefullness of georeferencing and its application for research in these two short articles, which have appeared on VU Library's website: 'Help Making VU's Old Maps Easier to Find and Better Searchable Online' and 'Do Research or Teach with the Maps Collection of VU Amsterdam.'
---
If you prefer getting started using instructions, we invite you to take a look at our instruction page . Here you can find a step-by-step guideline and instruction videos.
---
Current project: how far are we?
The aim of the current Georeferencing project is to georeference the oldest maps in VU Amsterdam's map collection dating from 1600 up to 1920. We have divided these maps into four subsets:
1600-1800
1800-1880
1880-1900
1900-1920
We are up and running on the fourth and last set: 1900-1920. Although the large majority of maps date within this time range, a number of maps will be more recent than 1920.
Below you see the progress of the current set:
In this table you see all contributors, ranked according the number of controlpoints placed:
Below you see most recently georeferenced maps (updated daily):
---
Further reading
Egmond, Marco van. "The Dutch Landscape of Online Institutional Georeferencing." E-Perimetron 14, no. 3 (2019): 14. (available on http://www.e-perimetron.org)
Hackeloeer, Andreas, Klaas Klasing, Jukka M. Krisp, and Liqiu Meng. "Georeferencing: A Review of Methods and Applications." Annals of GIS 20, no. 1 (January 2, 2014): 61–69. https://doi.org/10.1080/19475683.2013.868826.
Storms, Martijn. "Maps in the Crowd: Results of a Map Georeferencing Crowdsourcing Pilotproject." E-Perimetron 12, no. 3 (2017): 109–18. (available on http://www.e-perimetron.org)